• 1 block to the heart of town and 1/2 block to the lake. Walk to money exchange, restaraunts, the lake, bus station, tianguis and more. Stroll by the lake everyday and take a 2 minute walk to eat by the waterfront. Everything is at your fingertips! Forget your alarm clock? Wake up to the church bells!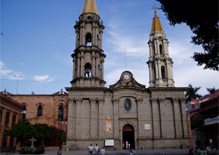 • 1 cuadra al centro de Chapala y media cuadra al lago de Chapala. Tienes todo a mano como casas de cambio, bancos, restaurantes, el lago, central camionera, tianguis y más! Se puede despertar con la campana de la iglesia!
• Includes internet access and use of a new high speed computer. Computer is loaded with MS Office [Word, Excel, Powerpoint, Access, Publisher], Dreamweaver, Adobe Acrobat, Winfax, Photoshop 7, 20 in 1 memory card reader, so you can email your friends and family photos of your daily adventures, CD and DVD burner and more for making photo cds or doing work.

• Precio incluye aceso al internet y computadora. Computadora tiene muchos programas y lector de tarjetas de camara.
• UNLIMITED calls to the US and Canada with a US call back number for friends and family to call you back without high international rates. Cell phone provided with local Mexican phone number for receiving calls on the go. (You must buy airtime in 100 peso increments and additional deposit required).
• Llamadas ILIMITADAS a Canadá y los Estados Unidos y un número de los EEUU para que los amigos te puedan llamar desde allí. También incluye uso de un móvil de México, tu pagas para el servico prepago.
---
• Rental rates
• $199 / 299 (Low / High Season) US per week, paid in advance of arrival plus $400 US cash deposit. Additional deposit of $150 US required for cell phone. No checks or credit cards accepted. Payment may be made by US Postal Money order or Deposit into US Citibank account, Bank of America account or Mexican Lloyd account.

• $199 / 299 (Baja / Alta Temporada) USD a la semana pagado antes de la llegada y un depósito de $400 USD en efectivo. Otro depósito de $150 USD para el uso del móvil. Pagos pueden ser depositados en una cuenta de Lloyd.
• One well behaved pet ok with extra charge of $50 per week and extra $50 deposit.
* Holiday periods may be higher. Holidays included but not limited to: Christmas Week, New Years Week, Carnival (February), Semana Santa (Easter Week), Chapala Fiestas (Sept 25 to Oct 4th), Revolution Day (November 20th), Independence Day (Sept 15-16th).
* Días festivas pueden tener un precio más alto. Días festivas pueden incluir... la navidad, el año nuevo, carnival, la semana santa, fiestas patrias, dia de la revolución, dias de independencia.
---
• Availability Calendar
http://www.trumba.com/corp/tour/tour03.aspx
---
• Attractions and Activities
• Boating, Shopping, Hiking, Trips to Guadalajara, Biking, Fishing, Horseback Riding, Town Festivals, Dining out, Local artists.
---
• Steals and Deals
• etc. etc.
---
• For information email / Para más información:
• caymandm@yahoo.com or call 805-689-9733 / fax 805-563-3332. Desde México 01 800 611 5626 o 044 33 11 20 66 62.